The Nakshatra which spreads from 16 degrees 40 minutes to 30 degrees of Karka Rashi is called Ashlesha (आश्लेषा). This is the ninth nakshatra in Vedic Astronomy. In Modern Astronomy, Ashlesha corresponds to δ, ε, η, ρ, and σ Hydrae.
Characteristics
Traits of those born in Ashlesha Nakshatra are:
Daring nature

Skeptical

Contradictions in character

Go-getter

Smart

Selfish

Aggressive

Good communication skills

Writing skills

Knows many languages

Bad friendship

Interest in music and arts

Interest in literature

Fond of traveling

Envy

Lack of gratitude

Highlights negatives in life

Wealthy

Quick response

Enjoys life

Women good at managing home
Mantra
ॐ सर्पेभ्यो नमः
om sarpebhyo namah'
Click below to listen to Ashlesha Nakshatra Mantra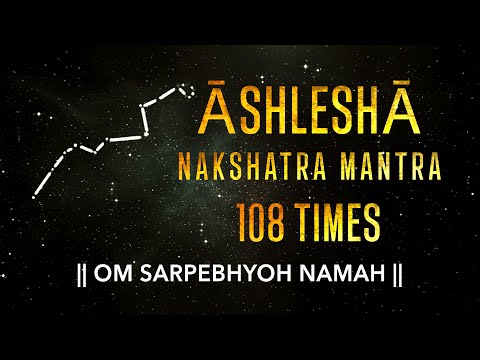 Unfavorable Nakshatras
Those born in Ashlesha Nakshatra should avoid important events on these days and also avoid partnership with those belonging to these Nakshatras.
Health issues
Those born in Ashlesha Nakshatra are prone to these health issues:
Rheumatism

Respiratory diseases

Edema

Jaundice

Neurological issues

Anxiety

Mental disorders

Indigestion

Cold, cough

Knee pain

Pain in the legs

Kidney diseases
Suitable career
Some of the suitable careers for those born in Ashlesha Nakshatra are:
Trading

Broker

Commission agent

Art

Music

Import / Export

Journalist

Writer

Color and Ink Industry

Data entry

Auditor

Translator

Diplomat

Travel agent

Tour guide

Attendant

Nurse

Mathematician

Astrologer

Engineer

Irrigation

Garments

Contractor

Stationery shop

Paper Industry
Can Ashlesha Nakshatra wear diamond?
Not favorable.
Lucky stone
Emerald
Favorable colors
Green, white
Names for Ashlesha Nakshatra
The starting letter of the name as per Avakahadadi system for Ashlesha Nakshatra is:
First charana - डी (Di)

Second charana - डू (Du)

Third charana - डे (De)

Fourth charana - डो (Do)
These letters can be used for the traditional Nakshatra name kept at the time of the naming ceremony.
In some communities, the names of the grandparents are kept during the naming ceremony. There is no harm in following that system.
Shastra prescribes that the official name kept for records and all practical purposes should be different from this. It is called Vyavaharika nama. The Nakshatra name as per the above system should be known only to close family members.
Letters that you should avoid in the official name for those born in Ashlesha Nakshatra are - ट, ठ, ड, ढ, प, फ, ब, भ, म, स ( T'a, T'ha, D'a, D'ha, Pa, Pha, Ba, Bha, Ma, Sa)
Marriage
Women born in Ashlesha Nakshatra may have a difficult married life. They should try to keep their dominating nature under control. Those born in Ashlesha Nakshatra should keep control over their suspecting nature. They have a tendency to hide which should be avoided.
Remedies
Periods of Chandra, Shukra, Rahu are generally unfavorable for those born in Ashlesha Nakshatra. They may perform the following remedies.
Ashlesha Nakshatra
Lord - Naga (Serpent)

Ruling planet - Budha

Animal - Black cat

Tree - Ceylon Ironwood (Musua ferrea)

Bird - Crow pheasant (Centropus sinensis)

Bhuta - Jalam

Gana - Asura

Yoni - Cat (Male)

Nadi - Antya

Symbol - Serpent