Thiruvannamalai Temple
Thiruvannamalai Arunachaleswarar Temple is located in the Tiruvannamalai district of Tamil Nadu.
This is the place where Lord Shiva revealed himself in the form of a Linga for the first time.
Nearly a million people assemble for the world-famous Karthigai Deepam at Thiruvannamalai.
Arunachala Hill (Annamalai) here is considered to be Shiva Linga itself.
Among the panchabhuta temples of Lord Shiva, Thiruvannamalai is that of Agni.
The legend from Shiva Purana
Once an argument broke out between Brahma and Vishnu.
Brahma said that since he is the creator, he is greater than Vishnu.
Vishnu said that unless he protects the world that Brahma creates, it can not exist; hence Vishnu is greater than Brahma.
As they kept on arguing, a huge pillar of fire (Shiva Linga) appeared before them.
Vishnu assumed the form of Varaha and went down to look for its base.
Brahma sat on his swan and went up to look for its top.
They could not and returned.
At that time, Lord Shiva appeared from the Linga.
Brahma and Vishnu realized the beginningless and endless nature of Shiva.
Among the Trimurthis, it was established that Shiva was the greatest.
(It may be noted that this refers only to the manifested aspects of Brahman as Brahma, Vishnu, and Shiva. Vedas clearly establish that they are one and the same and manifestations of the one and only Brahman.)
Thiruvannamalai is the place where the Agni Lingam appeared.
It was on an Ardra Nakshatra day.
That is why Ardra darshanam of Shiva Linga is so auspicious.
The Lord later assumed the form of Arunachala Hill to bless his devotees perpetually.
Annamalai
At Thiruvannamalai, the hill itself is considered to be Lord Shiva.
The place is called Tiru - Annamalai, the hill is called Annamalai, and the Lord is called Annamalayar.
According to Thiruvannamalai Puranam, Annamalai was a hill of fire in Kritayuga, of emerald in Tretayuga, of gold in Dwaparayuga, and is of rock in Kaliyuga.
The height of Annamalai is 2668 ft.
Arunachaleswara Temple
The temple complex spread over 25 hectares of land is an architectural marvel.
There are 9 prakaras, 142 shrines, and 306 mandapas in the complex.
There are two teerthas: Shivagangai teertha and Brahma teertha.
The Moolavar of the temple is Annamalayar and Thayar is Unnamulayal.
Origin of Karthigai Deepam
Once, Parvathy Devi closed the eyes of the Lord with her palms from behind.
All the worlds plunged into darkness.
This upset Lord Shiva.
He told Devi to go down to earth and observe tapas.
During this manifestation of Devi, she killed Mahishasura.
Her victory was celebrated by lighting thousands of lamps at Thiruvannamalai.
At that time, Lord Shiva appeared as a brilliant flame on top of the Arunachala hill.
Devi merged into the flame and regained her position as the left half of Lord Shiva (Ardhanareeshwara).
Karthigai Deepam is celebrated every year in memory of this.
The 10-day-long Brahmotsavam concludes with Karthigai Deepam.
First, Bharani Deepam is lit early in the morning.
This involves lighting five lamps from a single lamp.
This signifies that the panchabhutas manifest from a single source, Parameshwara, Lord Shiva.
In the evening, the five lamps are joined together signifying that the panchabhutas dissolve back into Parameshwara alone.
For Maha Deepam a five and a half feet tall copper vessel is used.
This is filled with 3500 kilograms of ghee.
The wick is made from 1000 ft. of cloth.
All put together, it looks like a huge Shiva Linga itself.
Maha Deepam is lit at evening twilight.
Once it is lit, the lamp is visible even from far away.
It is believed that the temple was originally on top of the hill where the Maha Deepam is lit.
Lord Shiva had declared that he will be present in the flame of that lamp every year during Karthigai Deepam.
Once lighted, the Mahadeepam burns for 11 days.
Girivalam
On every Pournami day, thousands of devotees perform circumambulation of Annamalai barefoot.
The circuit is 14 km long.
Undertaking girivalam confers moksha on the devotees.
Girivalam can be done on all days but doing it on Pournami days is especially auspicious.
There are 8 Shiva Lingas en route denoting Shiva as the lord of the 8 Lokapalas: Indra, Agni, Yama, Nirruti, Varuna, Vayu, Kubera, and Ishana.
Results of worshiping each Linga
Indra Lingam - Wealth and prosperity.

Agni Lingam - Relief from diseases, fears, and troubles from enemies.

Yama Lingam - Blessings of forefathers, good relations with siblings.

Nirruti Lingma - Begetting children.

Varuna Lingam - Relief from diseases, fame.

Vayu Lingam - Relief from troubles given by enemies, evil eye, and a good marriage for girls.

Kubera Lingam - Wealth, peace of mind.

Ishana Lingam - Clarity of thought.
There are two more Lingams, Surya and Chandra.
Special prayer for begetting children
Those having difficulty in begetting children perform girivalam and when they are blessed with a child come back and perform girivalam again carrying the child on a cradle hanging from sugarcane stems supported on their shoulders.
Thiruvoodal, a mock fight between the divine couple
Bhringi Rishi was an ardent devotee of Lord Shiva to the extent that he would worship only the Lord, not even Devi Parvathy.
Once, he went to visit the Lord.
There he wanted to do a pradakshinam of the Lord but only of the Lord and not Devi.
The Lord and Devi were sitting together.
So Bhringi went between them and did pradakshina of only the Lord.
Devi became angry and took out all energy from Bhringi's body.
Bhringi collapsed.
The Lord went to rescue him.
Devi became angry about this and a fight broke out between the divine couple.
This fight took place at Thiruvoodal Street at Thiruvannamalai.
Thiruvoodal = Thiru + Oodal = divine + mock fight.
Devi went back into the temple and closed the door.
The Lord had to stay out the whole night.
It was on Mattu Pongal day.
The lord spent the night doing a girivalam.
The next day morning after great effort, Devi allowed him inside.
In memory of this, this event is enacted on Thiruvoodal Utsavam every year.
This is a good reminder that fights do occur between husband and wife but they are out of affection and get resolved soon.
Festivals
Karthigai Brahmotsavam

Masi Mahashivaratri

Masi Theerthavari

Mattu Pongal, Thiruvoodal, Oonjal utsavam

Aadi Pooram

Panguni Uthiram Kalyanotsavam

Pradosham

New year

Deepavali

Pongal
Timings
5.00 am to 12.30 pm
3.30 pm to 9.30 pm
Nearest Airport
Chennai - 165 km
Nearest Railway Station
Thiruvannamalai
Villupuram - 62 km
Recommended for you
Video - மகா தீப தரிசனம்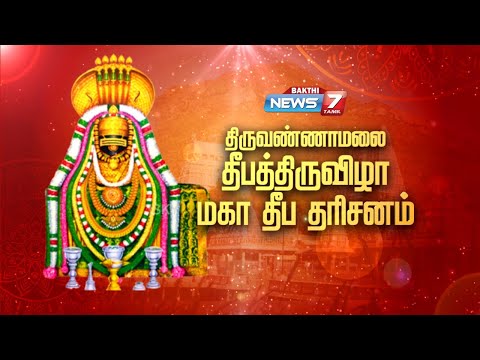 Video - Thiruvoodal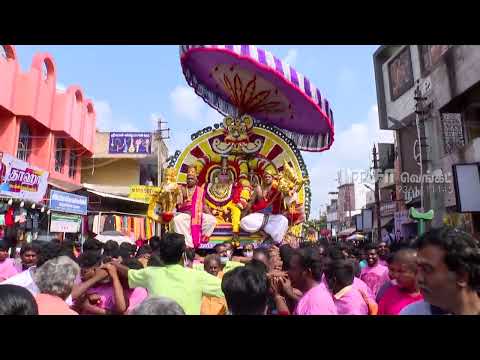 Video - JOTHI VADIVANA ANNAMALAI