Srivaikuntam Temple
Location
Srivaikuntam Sri Vaikuntanathaswamy Temple is in Thoothukudi district of Tamil Nadu.
Click below to watch video on Srivaikuntam Temple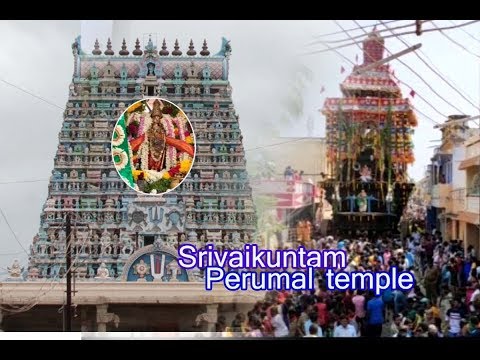 Main deities
Holy river
Thamiraparani. It is also known as Bhrigu teertham here.
Festivals
Vaikunta Ekadashi - For Garuda-sevai, nine idols from Nava Tirupatis are brought here on Garuda vahanam and also the idol of Nammalvar on a palanquin.
His paasurams about Nava Tirupatis are sung.
Sri Vaikuntanathaswamy Temple is among the Nava Tirupathis
Srivaikuntam Temple is one among the Nava Tirupathis.
Sri Vaikuntanathar represents planet Surya.
It is also one among the 108 Divya deshams.
History
A demon called Somuka who lived on the banks of river Tamiraparni stole the Vedas from Brahma.
Perumal came straight from Vaikunta, killed him, and restored the Vedas back to Brahma.
The Lord thus became known as Vaikuntanathar and the place became famous as Srivaikuntam due to his presence here.
Why is Perumal called Kallapiran?
There was a robber called Kaladushanan in that area.
He robbed rich people of unconscionable wealth and gave them to the poor.
He spent half the booty for Sri Vaikuntam Temple and the remaining for the welfare of the poor.
Once his accomplices were caught during a robbery.
Perumal appeared before the Pandiyan king in the form of Kaladushanan and advised him about Rajadharma.
The king failed in his duty, that's why there were poor in the kingdom while the rich amassed wealth.
The Lord revealed his real form after the king apologized. Kallan means robber in Tamil.
Since Perumal stood for a robber, he became famous as Kallapiran.
How Perumal got the name Pal-Pandian
The idol of Perumal remained unattended for a long time underground.
One of the cows of the king was not giving milk.
It was suspected that the herdsman was stealing the milk.
Later, it was found out that the cow was secreting milk over a particular spot (abhisheka) every day.
When the ground was dug, the idol came out and it was installed.
Pal means milk in Tamil.
Thus Perumal became known as Pal-Pandian.
Form of Vaikuntanathar
Perumal is in a standing posture under the Chandra vimanam with Asisheshan holding his hoods like an umbrella above him.
People pray here for
Good marriage, children, and education.
Timings
Morning 7.30 am to 12.00 noon

Evening 5.00 to 8.00 pm

Kalaisanthi - 8:00 a.m.

Uchaikalam - 12:00 Noon

Sayarakshai - 6:00 p.m.

Ardha Yamam pujai - 8:00 p.m.
Distance
Tirunelveli - 22 km

Tiruchendur - 31 km
Nearest Airport
Trivandrum
Address
Arulmigu Vaikuntanathar Tirukkoil,
Srivaikuntam,
Toothukkudi district,
Tamil Nadu,
PIN - 628 601
Contact number
04630 256476
Recommended for you