अमूर्तानां च मूर्तानां पितॄणां दीप्ततेजसाम् ।
नमस्यामि सदा तेषां ध्यायिनां दिव्यचक्षुषाम् ॥
इन्द्रादीनां च नेतारो दक्षमारीचयस्तथा ।
तान् नमस्यामि सर्वान् वै पितॄंश्चैवौषधीस्तथा ॥
नक्षत्राणां ग्रहाणां च वाय्वग्न्योश्च पितॄनपि ।
द्यावापृथिव्योश्च सदा नमस्यामि कृताञ्चलिः ॥
नमः पितृभ्यः सप्तभ्यो नमो लोकेषु सप्तसु ।
स्वयम्भुवे नमस्यामो ब्रह्मणे योगचक्षुषे ॥
అమూర్తానాం చ మూర్తానాం పితౄణాం దీప్తతేజసాం .
నమస్యామి సదా తేషాం ధ్యాయినాం దివ్యచక్షుషాం ..
ఇంద్రాదీనాం చ నేతారో దక్షమారీచయస్తథా .
తాన్ నమస్యామి సర్వాన్ వై పితౄంశ్చైవౌషధీస్తథా ..
నక్షత్రాణాం గ్రహాణాం చ వాయ్వగ్న్యోశ్చ పితౄనపి .
ద్యావాపృథివ్యోశ్చ సదా నమస్యామి కృతాంచలిః ..
నమః పితృభ్యః సప్తభ్యో నమో లోకేషు సప్తసు .
స్వయంభువే నమస్యామో బ్రహ్మణే యోగచక్షుషే ..
അമൂർതാനാം ച മൂർതാനാം പിതൄണാം ദീപ്തതേജസാം .
നമസ്യാമി സദാ തേഷാം ധ്യായിനാം ദിവ്യചക്ഷുഷാം ..
ഇന്ദ്രാദീനാം ച നേതാരോ ദക്ഷമാരീചയസ്തഥാ .
താൻ നമസ്യാമി സർവാൻ വൈ പിതൄംശ്ചൈവൗഷധീസ്തഥാ ..
നക്ഷത്രാണാം ഗ്രഹാണാം ച വായ്വഗ്ന്യോശ്ച പിതൄനപി .
ദ്യാവാപൃഥിവ്യോശ്ച സദാ നമസ്യാമി കൃതാഞ്ചലിഃ ..
നമഃ പിതൃഭ്യഃ സപ്തഭ്യോ നമോ ലോകേഷു സപ്തസു .
സ്വയംഭുവേ നമസ്യാമോ ബ്രഹ്മണേ യോഗചക്ഷുഷേ ..
அமூர்தானாம் ச மூர்தானாம் பித்ரூணாம் தீ³ப்ததேஜஸாம் .
நமஸ்யாமி ஸதா³ தேஷாம் த்⁴யாயினாம் தி³வ்யசக்ஷுஷாம் ..
இந்த்³ராதீ³னாம் ச நேதாரோ த³க்ஷமாரீசயஸ்ததா² .
தான் நமஸ்யாமி ஸர்வான் வை பித்ரூம்ஶ்சைவௌஷதீ⁴ஸ்ததா² ..
நக்ஷத்ராணாம் க்³ரஹாணாம் ச வாய்வக்³ன்யோஶ்ச பித்ரூனபி .
த்³யாவாப்ருதி²வ்யோஶ்ச ஸதா³ நமஸ்யாமி க்ருதாஞ்சலி꞉ ..
நம꞉ பித்ருப்⁴ய꞉ ஸப்தப்⁴யோ நமோ லோகேஷு ஸப்தஸு .
ஸ்வயம்பு⁴வே நமஸ்யாமோ ப்³ரஹ்மணே யோக³சக்ஷுஷே ..
ಅಮೂರ್ತಾನಾಂ ಚ ಮೂರ್ತಾನಾಂ ಪಿತೄಣಾಂ ದೀಪ್ತತೇಜಸಾಂ .
ನಮಸ್ಯಾಮಿ ಸದಾ ತೇಷಾಂ ಧ್ಯಾಯಿನಾಂ ದಿವ್ಯಚಕ್ಷುಷಾಂ ..
ಇಂದ್ರಾದೀನಾಂ ಚ ನೇತಾರೋ ದಕ್ಷಮಾರೀಚಯಸ್ತಥಾ .
ತಾನ್ ನಮಸ್ಯಾಮಿ ಸರ್ವಾನ್ ವೈ ಪಿತೄಂಶ್ಚೈವೌಷಧೀಸ್ತಥಾ ..
ನಕ್ಷತ್ರಾಣಾಂ ಗ್ರಹಾಣಾಂ ಚ ವಾಯ್ವಗ್ನ್ಯೋಶ್ಚ ಪಿತೄನಪಿ .
ದ್ಯಾವಾಪೃಥಿವ್ಯೋಶ್ಚ ಸದಾ ನಮಸ್ಯಾಮಿ ಕೃತಾಂಚಲಿಃ ..
ನಮಃ ಪಿತೃಭ್ಯಃ ಸಪ್ತಭ್ಯೋ ನಮೋ ಲೋಕೇಷು ಸಪ್ತಸು .
ಸ್ವಯಂಭುವೇ ನಮಸ್ಯಾಮೋ ಬ್ರಹ್ಮಣೇ ಯೋಗಚಕ್ಷುಷೇ ..
amurtanam cha murtanam pitrinam diptatejasam .
namasyami sada tesham dhyayinam divyachakshusham ..
indradinam cha netaro dakshamarichayastatha .
tan namasyami sarvan vai pitrimshchaivaushadhistatha ..
nakshatranam grahanam cha vayvagnyoshcha pitrinapi .
dyavaprithivyoshcha sada namasyami kritanchalih ..
namah pitribhyah saptabhyo namo lokeshu saptasu .
svayambhuve namasyamo brahmane yogachakshushe ..
Transcript

(Click here to read more)
Stotras and mantras of forefathers are very rare to find. There are many who have been told that they are suffering from pitrukopa, the displeasure of their forefathers. This is mostly due to non performance of shraddha or lack of dedication towards them. You should keep in mind that you are responsible for three generations of your forefathers who are still in Pitru Loka. Their food and water is your responsibility which is offered through the performance of shraddha and tarpana. This is a rare stotra from the Prabhasa khanda of Skanda Purana. We at ....
Transcript

(Click here)
Stotras and mantras of forefathers are very rare to find.
There are many who have been told that they are suffering from pitrukopa, the displeasure of their forefathers.
This is mostly due to non performance of shraddha or lack of dedication towards them.
You should keep in mind that you are responsible for three generations of your forefathers who are still in Pitru Loka.
Their food and water is your responsibility which is offered through the performance of shraddha and tarpana.
This is a rare stotra from the Prabhasa khanda of Skanda Purana.
We at Vedadhara feel blessed that we are able to put this in public domain for the welfare of everyone.
Addressed to forefathers.
Lord Shiva tells Parvathy Devi that chanting of this stotra is very pleasing to the forefathers.
You should chant this three times a day: morning, noon and evening.
If that is not possible, at least three times together.
The Lord says that if you do this, then your pitrus will bless you with prosperity of all kinds and troubles arising from pitru kopa also will be solved.
I will say this stotra word by word first so that you can note down and later chant it together also as how it should be chanted.
We will not be following strict rules of sandhi and vigraha of sanskrit grammar here, because the purpose is that you should learn and get benefited out of it.
We are not trying to make grammarians out of you.
अमूर्तानां – च – मूर्तानां – पितॄणां – दीप्ततेजसाम्
नमस्यामि – सदा – तेषां – ध्यायिनां – दिव्यचक्षुषाम्
We will see the meaning of this briefly so that you will understand the importance of pitrus.
Some of them have forms.
They still have forms.
That's why they appear in your dreams or you suddenly see someone who resembles your father or grandfather in a flash.
They go away.
Some do not have any form.
But in the Pitru Loka they are all brilliant.
We say Lord Ganesha is as brilliant as a crore of suns.
Suryakotisama prabha.
Like that the forefathers are also brilliant.
Veda says – devha pitaro pitaro devaha – that devas and pitrus are equal.
They are engaged in meditation, contemplation.
Once they reach Pitruloka, they realize how much they were engaged in the futile worldly pursuits - going after wealth, status, relationships, pamepring of senses. There in Pitru Loka when they realize this , they spend most of their time contemplating meditating.
This is the reason they develop brilliance .
Knowledge gives brilliance.
And they develop divya chakshu, divine vision, to see past, present and future.
They can see Devas.
They can see worlds that you don't get to see when on earth.
Arjuna was not able to see the Lord's vishwaroopa with his human eyes.
So the Lord gave him divya chakshu.
Then he could see the vishwaroopa.
Like this, the forefathers also get divya drishti.
Namaskaras to the forefathers.
इन्द्रादीनां – च – नेतारो – दक्ष – मारीचयस्तथा
तान् – नमस्यामि – सर्वान्वै – पितॄंश्चैव- ओषधीस्तथा
Even Devas like Indra have got their own forefathers.
Even the secondary creators who took over from Brahma the task of creation such as Daksha, Mareechi, they also have forefathers.
Namskaras to all the forefathers of everyone.
Namaskaras to plants and trees.
Because, Soma Deva is the nourisher of plants and trees.
Soma Deva is also closely connected to the forefathers.
Pitruloka is on the backside of Chandra mandala or Soma mandala.
One side of the moon is visible to us.
The other side, the back side, that is where Pitru Loka is.
This is why amavasya is important for pitrus.
During amavasya, the front side of the Chandra mandala is completely gone and the back side is facing earth.
Pitruloka and Bhuloka are directly facing each other. Connected to each other.
नक्षत्राणां – च – ग्रहाणां – च – वाय्वग्न्योश्च – पितॄनपि
द्यावापृथिव्योश्च – सदा – नमस्यामि – कृताञ्जलिः
Not only Devas, even grahas and nakshatras have got forefathers.
Even heaven and earth have got forefathers.
Namaskaras to all of them.
नमः – प्पितृभ्यः – सप्तभ्यो – नमो – लोकेषु – सप्प्तसु
स्वयंभुवे – नमस्यामो – ब्रह्मणे – योगचक्षुषे
There are seven worlds, you know that: Bhu, Bhuvaha, Svaha, Mahaha, Janaha, Tapaha, Satayam; there are forefathers in all these seven worlds.
The one behind Chandra mandala is where your immediate three generations of forefathers are.
The other pitrus: of Devas, or Prajapatis, they have their places in these seven worlds.
Namaskar to all of them and also to Brahma who maintains equanimity.
Mahadeva says that this stotra is chanted by the Saptarshis and Brahmarshis even.
This is so pleasing to the forefathers.
You also start chanting this stotra every day, three times.
Your forefathers will definitely bless you with everything in life.
Now we will see the complete stotra -
अमूर्तानां च मूर्तानां पितॄणां दीप्ततेजसाम् ।
नमस्यामि सदा तेषां ध्यायिनां दिव्यचक्षुषाम् ॥
इन्द्रादीनां च नेतारो दक्षमारीचयस्तथा ।
तान् नमस्यामि सर्वान् वै पितॄंश्चैवौषधीस्तथा ॥
नक्षत्राणां ग्रहाणां च वाय्वग्न्योश्च पितॄनपि ।
द्यावापृथिव्योश्च सदा नमस्यामि कृताञ्चलिः ॥
नमः पितृभ्यः सप्तभ्यो नमो लोकेषु सप्तसु ।
स्वयम्भुवे नमस्यामो ब्रह्मणे योगचक्षुषे ॥

Video - Pitru Mantra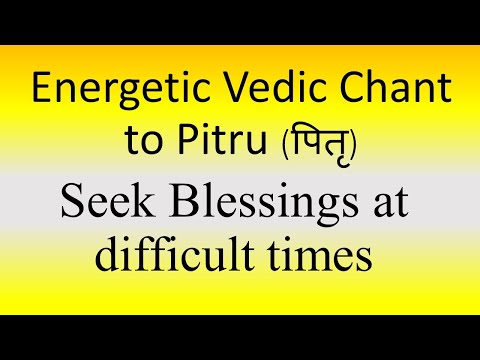 Video - Blessings of Pitrus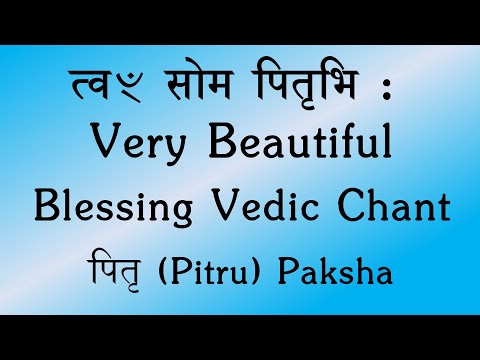 Video - Pitru Sukta Shukla Yajurveda