Click above to listen to only audio
Veda Is All Wish-granting Kalpavriksha - Bhagavata Is Its Fruit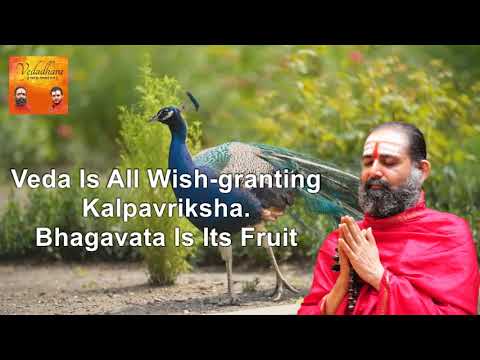 Knowledge Base
What are the concepts explained in Narada Bhakti Sutra?
Narada Bhakti Sutra explains - 1. The concept of bhakti as pure love for Bhagawan 2. Bhakti is independent of other paths such as knowledge 3. How to develop Bhakti 4. What are the impediments in the path of bhakti 5. The nature of pure love 6. Forms of ultimate attachment to Bhagawan.
How does Sage Vyasa define bhakti?
According to Narada-bhakti-sutra.16, Sage Vyasa defines bhakti as worship of Bhagavan through puja, building temples, decorating Bhagavan with clothes, offering garlands and flowers, offering chandana, offering naivedya, etc.
Quiz
From where did Lord Krishna get Panchajanya?
Transcript

(Click here to read more)
The third shloka of Bhagawata - निगमकल्पतरोर्गलितं फलं शुकमुखादमृतद्रवसंयुतम् पिबत भागवतं रसमालयं मुहुरहो रसिका भुवि भावुकाः Nigama means Vedas. निगम्यते ज्ञायते अनेनेति निगमः everything can be known, understood through the Vedas. But not just knowing. Veda is Kalpataru. Kalpataru can give you everything. Wor....
Transcript

(Click here)
The third shloka of Bhagawata -
निगमकल्पतरोर्गलितं फलं
शुकमुखादमृतद्रवसंयुतम्
पिबत भागवतं रसमालयं
मुहुरहो रसिका भुवि भावुकाः
Nigama means Vedas.
निगम्यते ज्ञायते अनेनेति निगमः everything can be known, understood through the Vedas.
But not just knowing.
Veda is Kalpataru.
Kalpataru can give you everything.
Worldly desires, health, wealth, children, you can get them all with Veda mantras.
Knowledge can be obtained by understanding Veda mantras. Attaining higher worlds, higher levels of awareness; this is possible with Veda mantras.
These are respectively karma, jnana, and upasana kandas of the Vedas in the form of Samhita, Brahamana and Upanishad, and Aranyaka.
Veda in this manner is Kalpataru which can grant every wish at every level.
But what is most important in trees?
We grow mango tree because it gives mangos.
We grow jackfruit tree because it gives jackfruit.
We grow coconut tree because it gives coconut.
The most important part of the tree is its fruit.
Bhagavata is the fruit of that Kalpataru called Veda.
And it is a fully ripe fruit that has naturally fallen from that tree.
Only fully ripe fruits fall on their own from the tree.
Bhagavata is fully ripe.
So when Bhagavata,the fruit of the vedic tree became fully ripe and fell, Bhagawan had taken avatara as Vyasa and was about to descend upon earth.
Bhagwan picked it up.
And what do you do when you get something very good and very tasty?
You give it to your child.
Vyasa gave this fruit to his son Shukadeva.
But not to eat, to drink.
Compare giving a mango to a child to eat with giving a glass of mango juice with the same mango.
Juice is easier.
The child just has to drink it.
No effort is needed.
One major difference between Veda and its fruit Bhagavata is that Bhagavata is filled with rasa, rasa as in poetry.
Poetry is enjoyable because of the rasas in it.
The sentiments, the emotions, the feelings.
You don't enjoy reading a newspaper the way you enjoy poetry.
News is just plain, flat, lifeless.
Poetry is not like that.
Poetry can make you emotional.
Same in acting.
Acting is enjoyable because the actor expresses various rasas.
You don't get the same feeling when you look at a statue.
But the rasa in Bhagavata is that of love, and that of devotion.
And it is in liquid form.
Veda is in sound form.
Bhagavata is like juice, most enjoyable.
When Shukadeva drank this juice, then love for Bhagawan started flowing out of all his organs.
Whatever he saw, heard, smelled, touched, tasted they were all filled with love for Bhagawan, love of Bhagawan.
In anything and everything, he saw only the love of Bhagawan which made Bhagawan most lovable.
This is because Shukadeva realized Bhagawan's true nature after drinking whatever his father had given him that it is love that is Bhagawan.
The essence, the rasa of Bhagawan is love.
Not any other emotion, not any other feeling.
So the love that was flowing out from every organ of Shukadeva, they all collected in his heart and came out, filled with only love, only devotion, more refined.
It is like the other adding some sugar to the already sweet mango juice.
When Bhagwata came out from Shukadeva, it was even more tastier.
Because Shukadeva could see only love everywhere.
And how this juice should be drunk?
Not just once.
Again and again.
Then it becomes tastier and tastier.
Everyone can listen to poetry when it is rendered.
But it may not be enjoyed by everyone.
Only bhavukas can enjoy poetry.
Only they can recognize the rasas in poetry.
It is not theoretical knowledge.
It's a talent, it's a skill that you can develop.
If you pay full attention when you listen to Bhagawwta, this bhaukatwa will develop on its own.
Don't listen as a matter of routine.
Be fully in it when you listen to Bhagavata.
Nothing else should be there in your mind.
Then bhavukatwa will develop on its own.
You will feel like drinking it again and again.
And everytime you drink it it will be a newer, better experience.