Purvashada Nakshatra
The Nakshatra which spreads from 13 degrees 20 minutes to 26 degrees 40 minutes of Dhanus Rashi is called Purvashada (पूर्वाषाढा). This is the 20th Nakshatra in Vedic Astronomy. In Modern Astronomy, Purvashada corresponds to δ "Kaus Media" and ε "Kaus Australis" Sagittarii.
Characteristics
Traits of those born in Purvashada Nakshatra are:
Handsome/pretty

Attractive

Intelligent

Broadminded

Sweet talking

Sincerity towards friends

Affectionate

Helpful

Give value to the opinions of others

A lot of friends

Optimistic

Self-respect

Not much support from parents

Middle age prosperous

Interest in arts

Interest in religion

Soft nature

Humble

Tolerant

High standard of living

Women may have a tendency to flaunt
Mantra
ॐ अद्भ्यो नमः
om adbhyo namah'
Click below to listen to Purvashada Nakshatra Mantra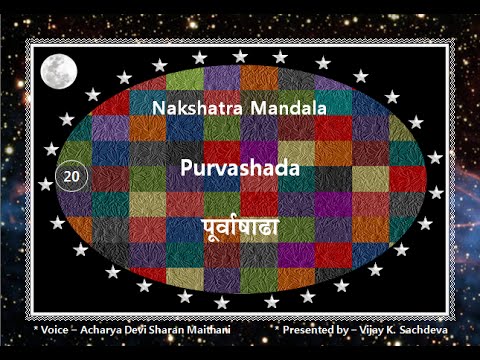 Unfavorable Nakshatras
Shravana

Shatabhisha

Uttara Bhadrapada

Punarvasu Karka Rashi

Pushya

Ashlesha
Those born in Purvashada Nakshatra should avoid important events on these days and also avoid partnership with those belonging to these Nakshatras.
Health issues
Those born in Purvashada Nakshatra are prone to these health issues:
Arthritis

Sciatica

Back pain

Diabetes

Indigestion

Kidney tumor

Cancer

Respiratory diseases

Knee problems

Cold, cough

Blood disorders

Weakness
Suitable career
Some of the suitable careers for those born in Purvashada Nakshatra are:
Legal profession

Bank

Government job

Cattle farm

Social service

Railways

Transport

Aviation

Silk

Linen

Rubber

Sugar

Nursery

Music

Hotel

International trade

Health Industry
Can Purvashada Nakshatra wear diamond?
Yes.
Lucky stone
Diamond
Favorable colors
White, yellow
Names for Purvashada Nakshatra
The starting letter of the name as per Avakahadadi system for Purvashada Nakshatra is:
First charana - भू (Bhu)

Second charana - धा (Dha)

Third charana - फा (Pha)

Fourth charana - ढा (Dha)
These letters can be used for the traditional Nakshatra name kept at the time of the naming ceremony.
In some communities, the names of the grandparents are kept during the naming ceremony. There is no harm in following that system.
Shastra prescribes that the official name kept for records and all practical purposes should be different from this. It is called Vyavaharika nama. The Nakshatra name as per the above system should be known only to close family members.
Letters that you should avoid in the official name for those born in Purvashada Nakshatra are - उ, ऊ, ऋ, ष, ए, ऐ, ह, च, छ, ज, झ (u, oo, ri', sha, e, ai, ha, cha, chha, ja, jha)
Marriage
Those born in Purvashada being soft and gentle can make a good spouse. Women are likely to face difficulties in marriage.
Remedies
Periods of Chandra, Shani, and Rahu are generally unfavorable for those born in Purvashada Nakshatra. They may perform the following remedies.
Purvashada Nakshatra
Lord - Aapah (आपः) - Water

Ruling planet - Shukra

Animal - Monkey

Tree - Indian Willow (Salix tetrasperma)

Bird - Cock

Bhuta - Vayu

Gana - Manushya

Yoni - Monkey (Male)

Nadi - Madhya

Symbol - Winnow
Recommended for you