Pitru Paksha
In Hinduism, Pitru Paksha is the most important time for worshiping forefathers.
When is Pitru Paksha?
The Krishna paksha of the solar month Kanya is called Pitru paksha.
During this time, the Sun passes through the stars: Uttara phalguni, Hasta, and Chitra.
Pitru Paksha includes the subsequent Shukla Paksha Pratipada also.
Click below to listen to Pitru Stotra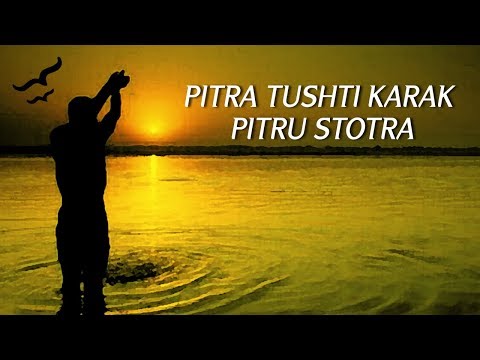 What happens during Pitru Paksha?
As soon as the sun enters Kanya rashi, all the forefathers come out of Pitruloka.
They go to their descendants.
They are hungry and thirsty and hope to receive food and water from their descendants.
If they are disappointed they curse and go back.
Why are the forefathers hungry and thirsty?
Every comfort is provided to the occupants of Swargaloka.
Forefathers who are in Pitruloka have to get all they need from their descendants on earth.
That is why shraddha is performed.
Forefathers remain hungry and thirsty if shraddha is not performed at the specified time.
What is special about Pitru Paksha?
Yamaraja does not allow the forefathers to stay in Pitruloka during Pitru Paksha.
They have to come down to earth to visit their descendants.
It is the descendents' duty to welcome them and to provide them with food and water.
In the hope of being invited inside, the forefathers wait at the doorsteps of their descendents' homes.
How is shraddha performed during Pitru Paksha?
In the olden days, during Pitru Paksha shraadha used to be performed every day following the complete procedure.
Nowadays, most people perform tarpana using tila every day during Pitru Paksha and shraddha on any one day during the Paksha.
In case you are not able to observe the entire Paksha, you can start from Panchami, Ashtami, or Dashami and perform till Shukla Paksha Pratipada.
Benefits of performing Pitru Paksha shraddha on specific tithis
Prathama- wealth

Dwitiya- progeny

Tritiya- suitable groom for daughter

Chaturthi- success over rivals

Panchami- prosperity

Shashti- fame

Saptami- leadership

Ashtami- progress

Navami- suitable bride for son

Dashami- all desires

Ekadashi- Vedic knowledge

Dwadashi- gain of gold

Trayodashi- progeny, intellect, wealth, freedom, longevity, prosperity.

Chaturdashi- mukti for those killed by weapons

Amavasya- all desires and Swarga
Which day is special for worshiping sanyasis?
Dwadashi of Pitru Paksha is meant for sanyasis who have attained samadhi.
What is Gajachhaya?
The Trayodashi of Pitru Paksha is called Gajachhaya and is very auspicious for performing shraddha.
The Moon should be in Magha Nakshatra as well.
What is Maha Bharani?
Bharani nakshatra day during Pitru Paksha is very important.
Doing shraddha on this day is as good as doing Gaya shraddha.
Observing Pitru Paksha is no less than performing a yajna.
It is not even optional.
It is mandatory for every religious Hindu
Recommended for you