Hasanamba Temple
Location
Hasanamba Temple is located at Hassan, Karnataka.
The place Hassan itself derived its name from this Goddess.
Hasanamba means - The ever-smiling mother.
Click below to watch video on Hasanamba Temple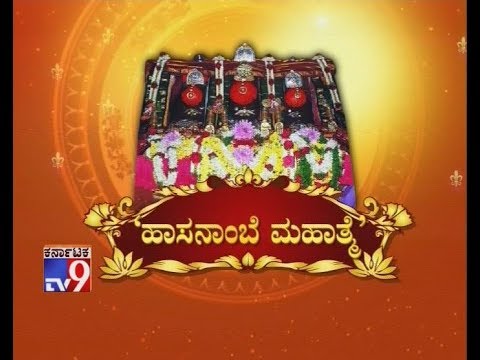 What is special about this temple?
The temple opens only for about a week in a year.
This coincides with Deepavali.
While closing the temple, a ghee-lamp is lit and placed inside the sanctum sanctorum.
When the temple is opened after one year, the devotees find the lamp still burning.
The flowers offered to Amaba still remain fresh.
How the temple came into existence
The scenic beauty of Hassan is mesmerizing.
Once the Sapta-Matrikas (Seven mothers of the universe - Brahmi, Maheshwari, Kaumari, Vaishnavi, Varahi, Indrani, and Chamunda) were touring South India.
When they came to Hassan, they wanted to permanently settle down here.
Six of them except Chamunda decided to settle down here itself; three in the form of anthills which can be still found inside the temple.
The other three became wells at Devigere Honda, a lake near the temple.
Chamunda went and settled down at Kenchemmana Hoskote which is 40 km from Hassan.
Sose Kallu
The mother-in-law of a devotee of Amba used to ill-treat her always.
Once as she was praying in front of the Goddess, the mother-in-law came after her and screamed - What is important to you, coming to the temple or your duties?
Saying this, she hit her hard on the head with a cup.
The daughter-in-law prayed for Amba's protection.
Devi turned her into a stone and kept her under her protection in the temple premises.
This stone keeps moving by the size of a paddy grain towards Amba every year.
At the end of Kaliyuga, it would reach the lotus feet of Hasanamba and attain moksha.
Kallappana Gudi
Four thieves once tried to steal the ornaments from the temple.
Hasanamba turned them into stones.
These stones can still be seen.
Ravana's image
Another interesting fact about this temple is an image of Ravana with nine heads.
He is seen playing the veena.
Siddheshwara Swamy
Lord Shiva is present as Siddheshwara Swamy inside the temple complex.
His presence is in the form of giving Pashupatastra to Arjuna.
Droplets of water seep through his forehead perpetually.
Who built this temple?
Krishnappa Naik was a Palegar under the Hoysala dynasty.
He built this temple in the 12th century.
Siddheswara Swamy temple was built by Venkatappa Naik.
Festivals