Dharmasthala Temple
Dharmasthala is a unique religious place in Dakshin Kannada, Karnataka.
Dharmasthala means the land of divine order.
It is a place that stands for peace and unity among various many religions and faiths.
History
600 years ago, Dharmasthala was known as village Kuduma.
Birmanna Pergade, a Jain was the chief of the village.
Kalarahu, Kalakayi, Kumaraswamy, and Kanyakumari are the four Dharma Daivas of the Jains.
They once came in disguise to Birmanna's house and were impressed by the adherence of the family to righteousness.
They again appeared in the dream of Birmanna and instructed him to vacate his house since they wanted to live there to uphold and protect dharma.
Accordingly, the Pergade family constructed another house and shifted there.
Their original house was called Nelliadi Veedu.
Later Daiavas again appeared in his dream and asked him to construct separate shrines for them.
They asked him to bring a Shiva Linga from Manjunatha Swamy Temple, Kadri, Mangalore.
A vassal, Annappa Swamy went to Kadri and brought the Shiva Linga which was installed at Dharmasthala.
Sri Manunathaswamy is the chief God of Dharmasthala.
Ammanavaru is the Goddess.
Annappa has been accorded the status of Shiva gana and worshiped here on top of a nearby hill.
During the ritual called Bhutakola, Annappa enters the bodies of the dancers and gives advice and orders in the form of oracles.
The shrines of the Dharma Daivas are also near this.
The temple was reconsecrated in the 16th century by Sri Vadiraja Tirtha.
The Pergade family are the trustees of the temple.
The administrator is called Heggade.
The present administrator is Padma Bhusham Veerendra Heggade.
A confluence of many faiths
The deity is Lord Shiva

The priests are Madhwas (Vaishnavites)

The Dharmadhikari (administrator) is a Jain

Folk deity Annappa is worshiped as Shiva gana.
Worship
The main pujas of Manjunathaswamy temple are:

Morning abhisheka and puja

Shatarudra abhisheka

Shiva Sahasranamavali archana

Mahanaivedya

Mahapooja at noon

Mahapooja at night
Bali puja is performed three times daily.
Sevas
Devotees can perform the following pujas:
For Manjunathaswamy
For Ammanavaru
Pavamanabhisheka

Panchamrita abhisheka

Pushpa puja

Kumkuma archana

Karpoora aarthi
For Ganapathy
Panchamrita abhisheka

Panchakajjaya

Appa naivedya

Karpoora aarthi
For Annappa
Tulabhara seva can be offered with Rice, salt, jaggery, coconut, tender coconut, flower, bananas, grains, etc.
Temple timings
6.30 am to 11.00 am

12.15 pm to 2.30 pm

5.00 pm to 8.30 pm
Festivals
Netravati
The holy river at Dharmasthala is Netravati.
It is a favorite of Lord Manjunatha
Abhisheka of Manjunathaswamy is performed with water from Netravati.
Thousands of pilgrims take bath here every day to purify themselves.
Annadana
Annapurna is the hall in which annadana is performed.
Its capacity is 2500 people at a time.
It is believed that Dhanyalakshmi resides in the 200-year-old house in which grains and other food items are stored.
Nearly 30,000 people are fed every day at Dharmasthala.
Hoilu - Abhaya Dana
For the devotees, Sri Heggade represents Sri Manjunathaswamy.
Thousands of people meet him every day.
He holds a court called the Hoilu.
He counsels and consoles them about their problems in life.
He also settles disputes.
The settlement of disputes is also well documented.
The petitions are addressed to Manjunathaswamy.
The verdict given by Sri Heggade is taken as the word of Manjunathaswamy.
Both parties sign and accept the verdict.
Hoilu verdict is admissible even a regular court of law.
One major fact about Hoilu verdicts is that both the parties go back satisfied.
The settlement is based on truth and justice for which Manjunathaswamy stands.
The parties are counseled in such a way that the animosity between them is removed.
Mass weddings
On all auspicious days, marriages take place at the temple.
Once in three years, a mass wedding is held.
All these events are completely sponsored by the temple.
Sri Manjunatha Samskriti Samshodhana Pratishtana
A large number of palm leaf manuscripts and scroll paintings are retrieved and protected here.
Manjusha museum has a lot of artifacts representing our rich cultural heritage.
Abandoned wooden chariots are brought and preserved here.
Dharmasthala temple also undertakes renovation of temples in the nearby areas.
Rathna Manasa
Rathna Manasa is a residential school at Dhamasthala based on the ancient Gurukula system.
The salient features are:
Free accommodation

Yoga and spiritual training

Training in self-discipline and financial matters

Training in life skills

Training in agriculture, horticulture, and dairy farming.

Training in arts

Vocational training

Familiarization with banks and other public utilities.
Bahubali statue
A 39-foot statue with a 13-foot pedestal is installed and consecrated at Dharmasthala atop Ratnagiri Hills, one km from Manjunathaswamy temple.
The statue weighs 1,75,000 kg and was sculpted by Renjala Gopalkrishna Shenoy.
Chandranatha Swamy Basadi is also a famous and beautiful Jain temple.
Nearest Airport
Mangalore
Nearest Railway Station
Mangalore
Recommended for you
Video - Dharmasthala Sri Manjunatha Swamy Temple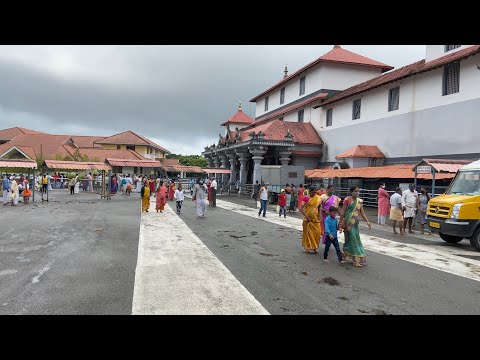 Video - Dharmasthala Sri Manjunatha Bhakthigeethegalu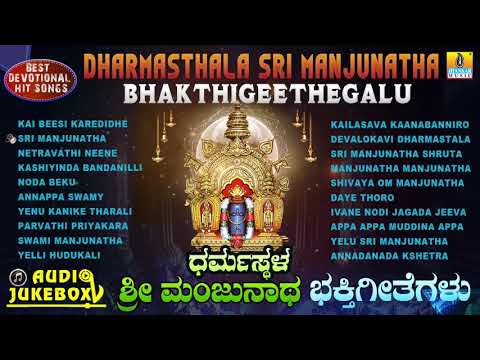 Video - A Tribute to Shri Dr.D Veerendra Heggade